The history behind Cervejaria Trindade goes back from 1294, when the convent of the Holy Trinity (Santissima Trindade) was built by three monks. Later on after the massive earthquake was rebuilt as a beer factory (cervejaria), and used the old monk dinning rooms, like we see today.
Trindade has been established as a restaurant for more than 150 years (celebrated back in 1986) and is one of the main references for restaurants in Lisbon, serving excellent seafood and good quality tasty steaks.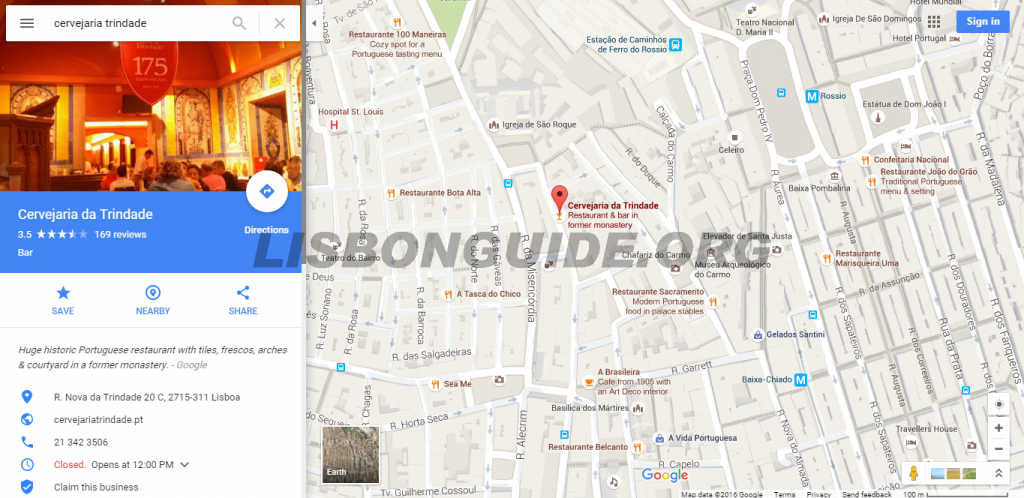 The restaurant is huge (around 400 seats total), but hosts often large groups, so a reservation is recommended on busy seasons. The recommendation goes for one of their excellent steaks or instead one place of diversified seafood.
Prices are reasonable, you can pay around 100EUR for two adults with seafood and one bottle of wine, or half the price if you go for the steaks.
Cervejaria Trindade
Address: R. Nova da Trindade 20 C, 2715-311 Lisboa
Phone: +35121342 3506
Official Website: http://www.cervejariatrindade.pt/
Open everyday from 10AM to 00h00
Passionate traveler, entrepreneur, webdesigner, travel article writter and Lisbon Private Guide since 2002.
Owner of The Lisbon Guide with more than 250.000 visitors every year. 
Based in Lisbon and experienced in tourism for over 15 years, with multiple ongoing projects, today loving to travel across the world with his family. Also an avid tripadvisor user level 6 with more than 200.000 readers worldwide, helping thousands of travelers yearly to plan a perfect trip. I work also as a
Private Tour Guide of Lisbon, Sintra and Fatima
, please
CONTACT ME HERE
to hire my services.