Lisbon has definetly some of the best seafood restaurants in Europe. The reason is the atlantic ocean and the fresh fish always available. Many people wonder why? It's simple: because of our geography. Portugal has the 3rd biggest fishing area in Europe and 11th in the World. Data shows that 11% of total fishing area of the European Union is Portuguese. It's 4.000.000 Km2 (yes, four million square km), the whole area of the European Union standalone!
Multiple awarded restaurants feature this list of seafood meals. Please note that some places listed below may not be inside the city but on the coast of Lisbon, usually within 30min distance.
1) Ramiro Restaurant (Cervejaria)
This is definetaly the most popular seafood restaurant in Lisbon, specialized in shellfish. Located close by downtown (15min walking from Rossio), it's so popular that doesn't even accept reservations. Everything's fresh, highlight for the grilled king prawns. They have also fresh lobster, clams, oysters, and more! Not cheap, but worth it's price. It's a place where locals go, but of course today visited by thousands of tourists.
Location Map here (opens new window)
2) SeaMe (Peixaria Moderna)
This nice restaurant features a blend seafood restaurant, tapas bar or often described as "modern fish market."
It's a modern restaurant, recently opened, where you can buy your own fresh fish to cook back home, or stay for a delicious meal that can go from sushi to traditional seafood and shellfish dishes.
It's known for the fresh fish and centrally located in Chiado. Opened everyday.
Location Map Here (opens new window)
3) A Cevicheria (By Chef Kiko)
Inspired in Latin American Flavours, specially from Peru, the food is based on Ceviche, typically made from fresh raw fish cured in citrus juices, such as lemon or lime, and spiced with chili peppers or others. This is the new trendy restaurant in Lisbon, located in the fancy area of Principe Real (up from Bairro Alto and Chiado), with a modern, trendy, nice decoration. It's absolutey mandatory here the freshness of the fish, which is served raw. It's mostly adapted to the traditional portuguese fish such as Codfish (Bacalhau), Octopus (Polvo), and others. Opened everyday.
Location Map Here (opens new window)
4) Marisco na Praça (Cascais)
This place is located outside Lisbon, in the fisherman village of Cascais. It opened inside the local market & fish market, where other restaurants opened after the recent renovation. They serve all kind of shellfish, freshly caught and served. Here you choose what to eat, by weight, and ask them to cook afterwards. Reasonable priced and great atmosphere to relax, specially on summer week days. Opened everyday.
Location Map Here (opens new window)
5) Porto de Santa Maria (Guincho – Cascais)
This is probably the most popular seafood restaurant in Portugal, serving since 1947. Located in front of the beach (Guincho), also close to Cascais village, it's the place where local wealthy people go to have lunch and dinner. Great choice of seafood and shellfish, with live lobsters (tanks), it's a place you should not miss if you like seafood and a wonderful romantic scenic meal. They are proud to have served special guests like Bill Clinton when he was still US President and Brad Pitt. Opened everyday.
Location Map Here (opens new window)
Best Lisbon Seafood Restaurants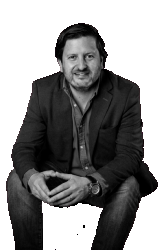 Private Guide in Lisbon / Sintra / Fatima.
Please
CONTACT ME HERE
to hire my services.
Passionate traveler, entrepreneur, web-designer, travel article writer.
Owner of The Lisbon Guide with more than 250.000 pages visited every year. 
Based in Lisbon and experienced in tourism for over 15 years, with multiple ongoing projects. Also an avid tripadvisor user level 6 with more than 300.000 readers worldwide, helping thousands of travelers yearly to plan a perfect trip.
Helping customers from all over the world, planning their perfect trip for over 15 years.
SEND ME A MESSAGE