Lisbon Airport is located very close to the city center. Unlike most European capitals, the airport in Lisbon is located just 10/15min from the city center, and there are several ways of reaching the city, either by shuttle bus, taxi, metro/underground, private transfer or similar.
Here are below TOP 5 Recommendations to reach the city centre of Lisbon from the Airport:
1) Private Transfer Services – Concierge Portugal
Web Address for online booking: https://lisbonguide.org/private-transfers-portugal/

2) By Metro (Subway/Tube)
This is definetity the cheapest way to reach the city centre. Depending on the final destination, can take 15 to 25 minutes and will cost you only 1,40EUR, a bargain! You will have to change once the line at Alameda, and take the green line to downtown (Rossio/Baixa), so it's not that recommended if you take too much luggage with you. Also take note to avoid on rush hours (8AM to 9AM and 6PM to 7PM).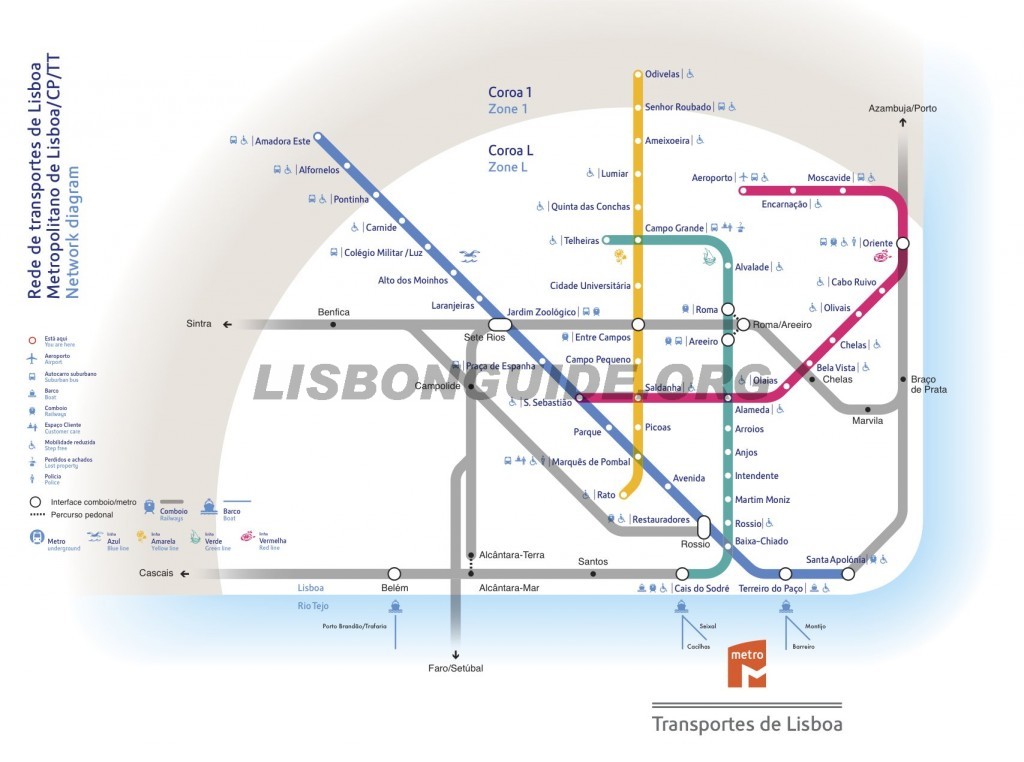 3) By Taxi
Often people prefer a taxi instead, since the city centre is not far, and specially when you bring large pieces of luggage with you. The ride usually costs between 8EUR-12EUR and is good for 3 to 4 adults, making also a very affordable method of transportation when shared with friends or couples, to take you from the airport to downtown. Taxi drivers often do not speak english, so make sure you have a detailed address written on a paper. The taxi stop is right in front of the arrivals terminal hall.

[AdSense-B]
4) AeroBus Shuttle Service (Large Bus)
This service is operated by Carris/Yellowbus and offers large bus service from terminal 1 and terminal 2 to downtown every 20min. Costs only 3.15EUR or 4.95EUR for return ticket.
Website: https://www.yellowbustours.com/en-GB/Lisbon/AeroBus-Lisbon-Airport-Shuttle.aspx


5) Lisbon Airport Shuttle Service (Private Small Minivan)
There's a private company offering shared transfers every 15min from the arrivals hall. Costs as little as 6EUR, and is a good alternative to the large aerobus service, and offers a door-to-door transfer service to downtown.
Website: http://100rumos.com/product/lisbon-airport-shuttle/

6) UBER
Of course the famous UBER also exists in Lisbon and you can also have it as optional from Lisbon Airport to downton. The service costs around 6EUR for UberX, but please be aware that UBER is not welcome in Lisbon, specially between taxi drivers, and there's also an ongoing court claim to stop UBER from operating in Lisbon.


Questions? Click here to plan your trip to Portugal