The Jewish community is small in Lisbon, and kosher food has been extremely difficult to get in the city, often impossible. Often visitors who eat only kosher food are required to bring back from home their own products to eat. Once existed a kosher restaurant (some directories online still shows this place), but it no longer exists.


First let me introduce what is Kosher Food, for those who are not familiar with this kind of food: Kosher food, mostly eaten some Jewish, are those that are within the rules of kashrut (Jewish diet law). The type of Food that must be consumed and prepared according to halakha (Jewish law) is named kosher, from the Ashkenazi spelling of the Hebrew term kashér . Food that is not prepared within the Jewish law is called treif , meaning "torn."


But kosher food means more than responsible food cooking. Kosher refers to a set of ritual laws from the bible that resumes the kind of food that a Jewish can eat and the methods in which it may be arranged/cooked.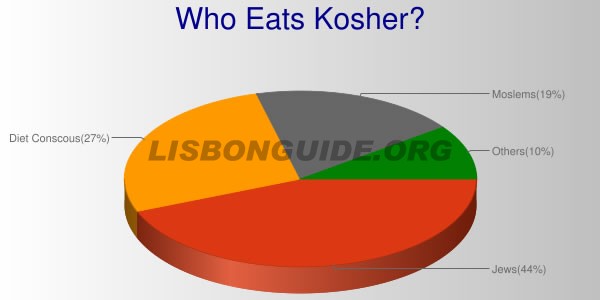 This can be even more complex for someone who never heard of Kosher. All stuff used in slaughtering, cleaning, preparing, cooking and packaging must be certified kosher. Blood on meat must be totally removed before cooking. As meat types, cow, goat and sheep are kosher; pork and rabbit are not. There are also many other kind of food that is not considered kosher, like most seafood (excluding kosher fish), wild animals and their similar. Against to popular wrong understanding, rabbis or other religious officials do not bless or consacrated the food to make it kosher. That's a common mistake. It's the origin of food, way of preparing, materials used, and cooking method that makes a food kosher or not.

PLACES TO EAT KOSHER FOOD IN LISBON
1) Kosher in Lisbon: http://www.kosherinlisbon.com/
They are a guesthouse located close to the Synagogue of Lisbon, offering take-away kosher food
2) Some individual/private locals, according to the synagogue website, offer kosher food for take-away/delivery.
a) Mrs Rebeca Assor
Rua Rodrigo da Fonseca 38, 1ºD
Mobile: +351 91 7230508
Tel: (+351) 21.386.03.96
Fax: (+351) 21.386.63.36
b)Mr Micha Classen
Tel: (+351) 213 972 001
c) Mrs. Patrícia
lisbon.kosher@clix.pt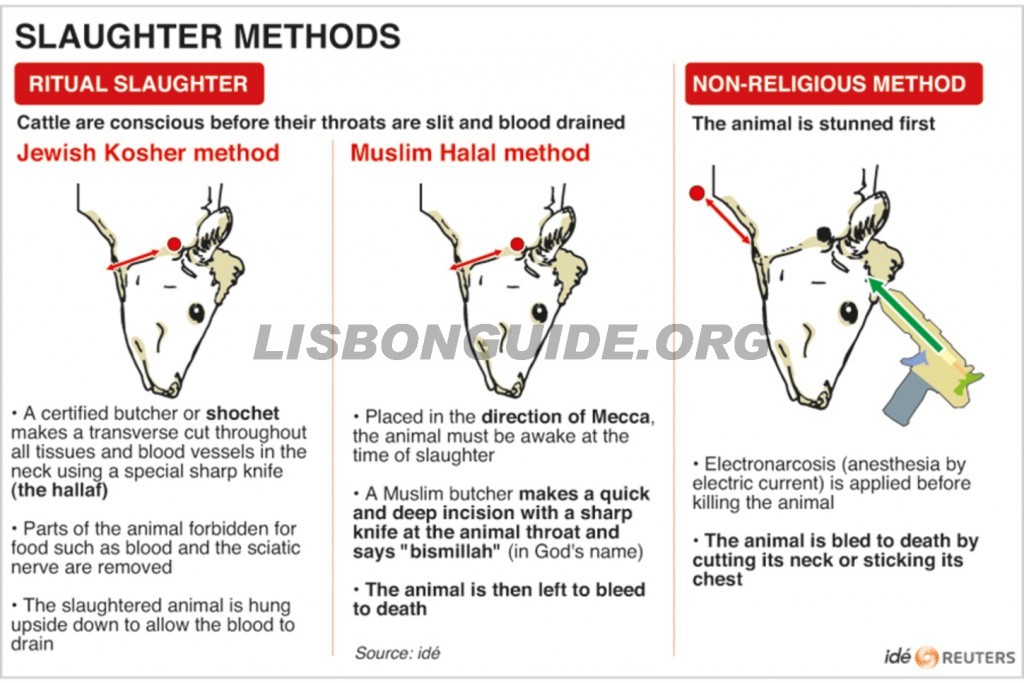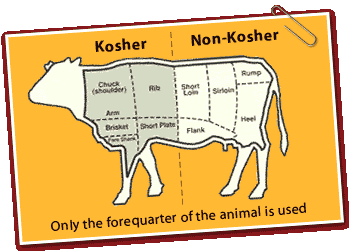 KOSHER WINES in Portugal
Kosher wines exist for over 1400 years, since 636 AD in Israel. The wine is kosher not because of it's quality or taste (probably will taste the same as others, or very similar – I have tried several kosher wines in the past). What makes a Kosher Wine is the rabbinical production techniques according to the strict Jewish laws. A kosher wine must not contain any chemical or animal addictions, lactose, glycerin, corn products or non-wine products. The equipment used on the wine productions must be 100% exclusively for the production of kosher products and not making other kind of wines. Again, it's not "blessed" by the rabbi. That doesn't make a wine kosher. Said that, kosher wines are extremely rare in Portugal, although our production of wine nation wide is huge.
1) Abarbanel Heritage – The first kosher wine to be produced in Portugal, named "Terras de Belmonte", with the help of the famous Abarbanel wines
a) Link 1: http://kosher-wine.com/wines/terrasdebelmonte_retired_9_04.shtml
b) Link 2: http://www.kosher-wine.com/order-online.php
2) Porto Codovero – The famous port wine is available to buy online, also as kosher wine
http://www.kosherwine.com/porto-cordovero-port.html
3) Adega da Covilhã, from Belmonte Region, has a wonderful Sepharad Wine Kosher Reserve 2005
http://www.adegacovilha.pt/?cix=223
4) Felix Rocha Kosher Red Wine
http://felixrocha.pt/kosher/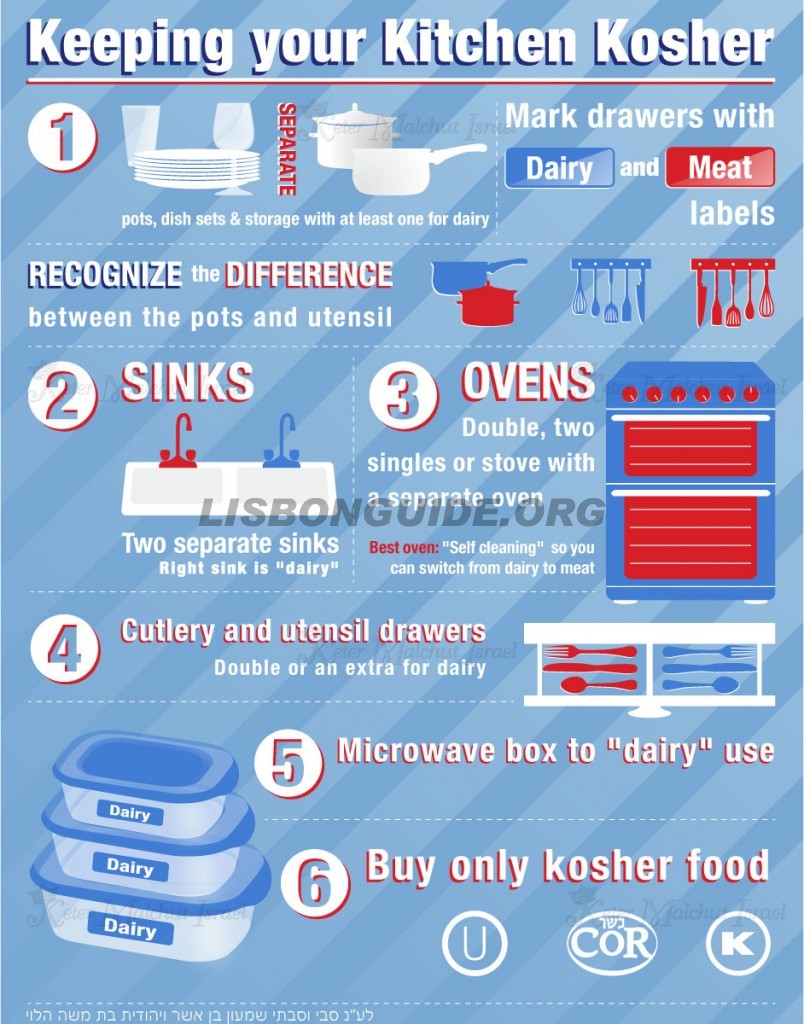 For more information updated you can always reach the Lisbon Synagogue Rabbi Di Martino below:
His Email is: rabino@cillisboa.org
His home phone is: 00 351 213 879 146
His cell phone # is: 00 351 96 347 5060
Shabbat shalom

Article about Jewish Kosher Food in Lisbon, by Gonzalo from TheLisbonGuide. One of the most popular articles in Lisbon. Learn more about Kosher Food.
Passionate traveler, entrepreneur, webdesigner, travel article writter and Lisbon Private Guide since 2002.
Owner of The Lisbon Guide with more than 250.000 visitors every year. 
Based in Lisbon and experienced in tourism for over 15 years, with multiple ongoing projects, today loving to travel across the world with his family. Also an avid tripadvisor user level 6 with more than 200.000 readers worldwide, helping thousands of travelers yearly to plan a perfect trip.
I work also as a
Private Tour Guide of Lisbon, Sintra and Fatima
, please
CONTACT ME HERE
to hire my services.
Helping USA customers planning their perfect trip for over 15 years
You can also call me from USA at:
(646) 809-4700
(from 6AM to 3PM EDT)